Barbara De Angelis – Soul Shifts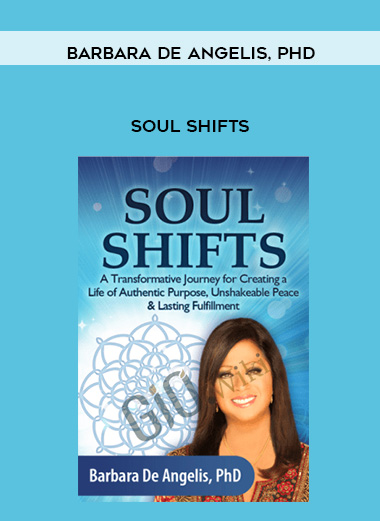 Barbara De Angelis – Soul Shifts
Arichive : Barbara De Angelis – Soul Shifts
Take a sacred inner journey back to wholeness to create a peaceful, purposeful, and joyful life.
Transform your life from the inside out to expand your consciousness and experience emotional freedom and spiritual fulfillment.
Waking up is for the brave. It is for the visionaries, the awakeners, the Soul Shifters. It is for you.
— Barbara De Angelis
Are you a true seeker?
If so, you have the courage to ask yourself the "sacred questions"…
"Who am I?… What is my purpose in this life?… Why is it that sometimes I am my highest, most loving wise self, and then other times, I feel lost, disconnected and confused?… How can I find a refuge of peace inside myself?… What is the Source of everything, and how am I connected to it?"…
And perhaps the most important question of all: "How can I live as the most awake, loving human being I can be?"
If you've contemplated questions like these, your "cosmic alarm clock" has gone off, reminding you that you have an appointment to wake up fully and stay awake — NOW, in this lifetime.
You're ready for more — more inner awakenings that won't disappear… more fulfillment with who you are and what you can offer to the world… more freedom from anything that has been weighing you down or holding you back.
You're ready to live the real You.
You're ready for what bestselling author and renowned spiritual teacher Dr. Barbara De Angelis calls Soul Shifts!
What Are Soul Shifts?
Soul Shifts are much more than improvements in your attitude or behavior that you have to remind yourself to keep on making. That's how we usually try to change ourselves — by constantly micromanaging our thoughts and feelings, and hoping for the best.
That's control, not transformation. According to Dr. De Angelis, true transformation must happen, and can only happen, at the level of your vibration if it's to be authentic and permanent.
Soul Shifts are powerful vibrational shifts in understanding, feeling, and consciousness that you generate from within, shifts that will automatically transform you and your life from the inside out because you've learned how to operate from true vibrational mastery at the deepest level of who you are, the soul level.
Dr. De Angelis has seen, again and again, that you CAN learn how to make these Soul Shifts — and when you do, everything on the outside of your life shifts. Places where you've felt stuck or confused become illuminated with new clarity and understanding. Your obstacles turn into possibilities, dead ends transform into doorways, and your challenges convert into revelatory maps leading you to exciting, new opportunities… all because you've shifted at the center of who you are.
It's time for you to experience the Soul Shifts journey if:
You've always felt you're here for a special purpose, and are ready to remove the inner blocks and barriers to living as the most powerful You possible
You sense something more calling to you — more vision, more freedom, more expansion — and want to feel more clear and confident about your next step
You're ready to stop getting stuck in the same emotional and mental patterns over and over again and to jettison your emotional baggage
You long to create an internal refuge of peace and steadiness that will support you no matter what's happening externally
You're tired of trying to control everything, and want to trust yourself and the universe more
You're ready for more power, more joy, and more peace
This IS the moment you've been waiting for… and amazing, liberating Soul Shifts are waiting for you…
The Importance of a Master Teacher
The Soul Shifts journey is led by renowned spiritual teacher Dr. Barbara De Angelis, who for the last 40 years has reached tens of millions of people throughout the world with her transformational seminars and life-changing wisdom and inspiration.
Born as a passionate seeker, Barbara deeply immersed herself in meditation, spiritual practice, and study from the young age of 18, and spent many years in residence with several of the great spiritual masters of our time. She emerged with an expanded consciousness, luminous presence, and a revealed understanding of the mechanics of authentic realization. Since then, her life has been dedicated to supporting people who feel ready to cross a threshold into more freedom, healing, and awakening.
Now, for the first time ever, Barbara is fulfilling one of her own deepest soul promises: She's taken the most essential wisdom, the same original tools and techniques, the most effective emotional healing exercises and guided meditations that have only been available through her live workshops, and put them together in this brand new Soul Shifts online course so you can personally experience the transformative power of these teachings.
In short, she has taken the best of a lifetime of spiritual realization to serve YOU in fulfilling your highest destiny through this program.
Barbara is known for her ability to offer mind-expanding wisdom in comprehensible, down-to-earth terms. She creates an energetically intimate and compassionate connection with her students, holding a loving space for you to go deeper and higher than you may have thought possible.
During this 7-module adventure into your depths, you'll experience not just information, but the actual transmission of enlivened, vibrational content that will activate your own frequency of transformation and awakening — and free you to make immediate shifts more easily than ever before.
With a loving commitment to support you in living your ultimate destiny, Barbara has carefully designed Soul Shifts to be a significant personal pilgrimage — your sacred inner journey to emotional and spiritual rebirth and lasting attainment from which you will emerge truly and authentically uplifted and transformed.
Why Soul Shifts Are Needed Now More Than Ever
We live in what are undeniably very troubling, unsettling, and disturbing times. It can be tempting to shut down, tune out, and turn away. Many of us also find ourselves at unexpected emotional or spiritual crossroads, experiencing personal changes and challenges that leave us with more confusion than certainty, and more questions than answers.
Barbara feels that now more than ever, the world needs each of us to live our highest consciousness. Now more than ever, we are each being called to accelerate our process of transformation, healing, and awakening.
No matter how fast you think you're growing and shifting, you can advance more quickly and more gracefully… No matter how much you think you're healing, you can heal more deeply and let go of more… No matter how much you think you're loving — both yourself and others — you can love more…
Now more than ever, making your own Soul Shifts is an essential spiritual practice and a supreme service to our planet.
During your 7-module Soul Shifts journey, you'll discover:
How to identify the invisible blocks that may be preventing your soul transformation — and develop the emotional courage to overcome them
How to stop defining yourself by acquisition and achievement, and start honoring your genuine "soul accomplishments"
What you can do to make every day of your life one of true purpose and meaning
Why what you've been calling depression or low energy might really be a sign of "spiritual homesickness," and how to retrieve your passion, energy, and vibrant aliveness
How to get off of your emotional roller coaster and shift from micromanaging to life mastery, and from fear-based control to consciousness
The astonishing ways your brain may be sabotaging your success and happiness — and how Soul Shifts will update your emotional and spiritual software
Elegant meditations to create an unchanging inner sanctuary of peace and steadiness within that nothing and no one can take away from you
The surprising symptoms of "spiritual jet lag" — and what to do when the new you doesn't fit into your old life
How to reclaim your authenticity, restore your boundaries, and live with more dignity, delight, and balance
Expansive mastery practices that instantly realign your consciousness to the most clear, centered, authentic, enlightened you
How to tell if you're vibrationally short-circuiting your life — and how to restore your spiritual and emotional circuitry to be able to handle maximum cosmic voltage
New, effective ways to recognize habitual patterns of thinking, feeling, and behavior when they're actually happening — and in that moment, make more enlightened choices
How to quickly get unstuck and transmute restlessness into renewal, confusion into vision, and self-doubt into confidence
How to become a more consistent uplifting, and transformative presence in your personal relationships, your work, and our world
Practical spirituality: inspired tools for sacred living and everyday grace