Basic to Pre-Intermediate Tumbling (Gymnastics, Acrobatics)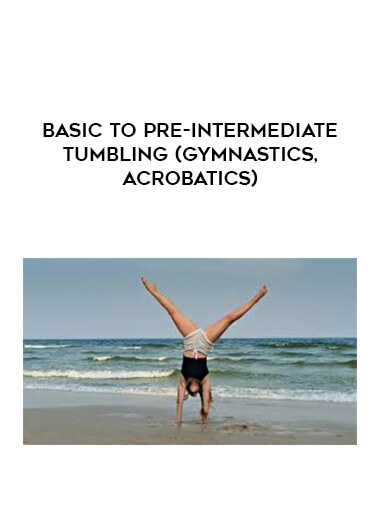 Basic to Pre-Intermediate Tumbling (Gymnastics, Acrobatics)
Arichive : Basic to Pre-Intermediate Tumbling (Gymnastics, Acrobatics)
.mp4 (1280×720, 30 fps(r)) | Audio: aac, 48000 Hz, 2ch | Size: 1.56 GB
Genre: eLearning Video | Duration: 13 lectures (1 hour, 16 mins) | Language: English
Easy Progressive Safe Drills to Acquire Basic to Pre-Intermediate Floor (Acrobatic and Gymnastic) Tumbling Skills
Forward Roll
Dive Forward Roll
L – Handstand and Pre-Handstand
Handstand to Forward Roll
Cartwheel
Handstand to chest Roll
Backward Roll
Requirements
Open Space – even if Lounge or Bedroom (Make enough space)
Lots of Pillows
Soft landing mat, sturdy – thin or thick even if a mattress.
Acknowledge that you take full responsibility of any accidents or injuries that you may incur whilst doing this course
Description
Learn how to
Do a quick warm up routine to prepare the body for physical exercise, (however time should be set aside after warm up to go slowly through the progressive Drills of each skill shown in the video, to be thoroughly physically warm and fully mentally prepared for Tumbling Skills.
Handstand (Pre-Handstand for this course)
Cartwheel on Right and Left Leg
Forward Roll.
Handstand to Chest Roll
Dive Forward Roll
Handstand Forward Roll
Backward Roll
Or
Know the Interim Drills to do whilst overcoming any fears for the Tumbling skills, listed above.
Who this course is for:
Adults that want to learn tumbling at home Safely
Parents wanting kids to practise learn tumbling at home safely with supervision. Must have parents supervision.
Teachers wanting to learn how to use mats, pillows (more soft mats) to teach tumbling safely without spotting