Brandon & Heather Turner – The book on Managing Rental Properties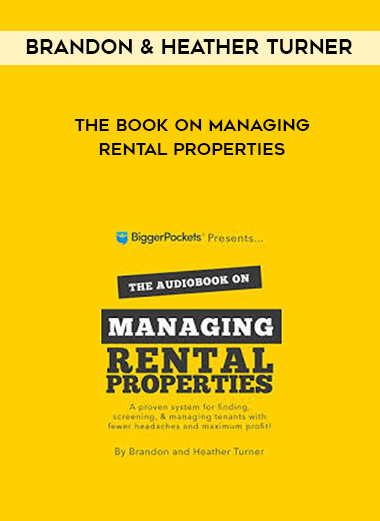 Brandon & Heather Turner – The book on Managing Rental Properties
Arichive : Brandon & Heather Turner – The book on Managing Rental Properties
Real Estate Investing – Learn about Real Estate
What is real estate? Learn about Real Estate
Real estate investing involves the purchase, ownership, management, rental and/or sale of real estate for profit.
Improvement of realty property as part of a real estate investment strategy is generally considered to be a sub-specialty of real estate investing called real estate development.
Real estate is an asset form with limited liquidity relative to other investments,
it is also capital intensive (although capital may be gained through mortgage leverage) and is highly cash flow dependent.
If these factors are not well understood and managed by the investor, real estate becomes a risky investment.
Product Description
No matter how great you are at finding good rental property deals, you could lose everything if you don't manage your properties correctly!
But being a landlord doesn't have to mean middle-of-the-night phone calls, costly evictions, or daily frustrations with ungrateful tenants. Being a landlord can actually be fun IF you do it right.
That's why Brandon and Heather Turner put together this comprehensive book that will change the way you think of being a landlord forever. Written with both new and experienced landlords in mind, The book on Managing Rental Properties takes you on an insider tour of the Turners' management business, so you can discover exactly how they've been able to maximize their profit, minimize their stress, and have a blast doing it!
Inside, you'll discover:
• The subtle mindset shift that will increase your chance at success 100x!
• Low-cost strategies for attracting the best tenants who won't rip you off.
• 7 tenant types we'll NEVER rent to―and that you shouldn't either!
• 19 provisions that your rental lease should have to protect YOU.
• Practical tips on training your tenant to pay on time and stay long term.
• How to take the pain and stress out of your bookkeeping and taxes.
• And much more!
SIZE: 17 MB