Craig Valentine – Secrets Of Storytelling-Compressed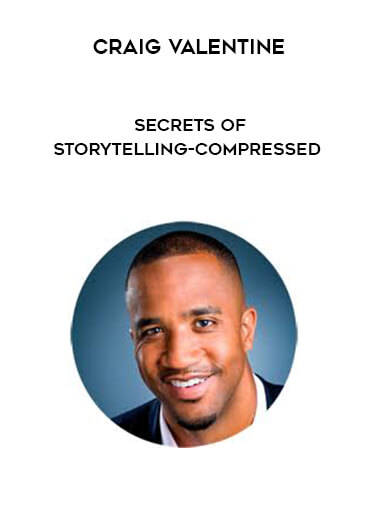 Craig Valentine – Secrets Of Storytelling-Compressed
Arichive : Craig Valentine – Secrets Of Storytelling-Compressed
But wait a minute, What if I already have Craig's original storytelling audio course?

That's great. I hope my original course has helped you. So how is this course different? There are 5 major differences between my past course and the brand new Secrets of Storytelling Video Course.

Difference-Maker #1 –

 Witness the Construction

In my past audio course, you listened to my completed stories that were already polished and built. While it's great to have those examples, there's only one problem. You never got to see where those stories were at their beginning.

I remember watching speakers and thinking, "That's a great story. I wonder how it was when she first told it. I wonder how that story came about. How did it grow into greatness?"

SEE the Stories Under Construction

Wouldn't it be helpful to see where a story was when it was still just an idea? And wouldn't it be valuable to look at that story again once it was completely polished? Well, that's what you get in this course.

But you don't just get one story; you get 6 different stories by 6 different speakers. That's right, in addition to the sample stories from Craig Valentine and Darren LaCroix, you get to see 6 speakers' stories from the very beginning and then watch those stories evolve (step by step) with the tools, formulas, and the model you too can use to develop your own superb stories.

Difference-Maker #2 –

Words are important in storytelling, but, make no mistake about it, storytelling is a VISUAL art. That's another difference between my original program and this one. This time it's on VIDEO. You can…

• SEE the spaces between the lines

• Experience what it means to really use the stage

• See how what's NOT said often speaks louder than what IS said

• Master the character dynamic including spacing, posture, voice, tension, silence, etc.

• Perfect the often ill-pursued combination of narration and dialogue

• SEE how to use your delivery to make rather than break the story

• And much more

Remember the wisdom of Patricia Fripp who once said, "People won't remember what you say as much as they'll remember what they SEE when you say it."

You can SEE more than 15 hours of video instruction in this course.

Difference-Maker #3 –


The 5 Extra Tools

In addition to the 15 hours of video training, the 103-page Storytelling Guide, and the 101 extra storytelling secrets, you get an INTERACTIVE STORYTELLING TOOLKIT that includes the following 6 story-building tools

• My Foundational Phrase File

• My Storytelling Compass

These are the tools you absolutely need if you want to be a top-rate storyteller that commands high speaking fees. The best part about the tools is you can literally type into each PDF to develop every story you give. These tools alone could be worth much more than the price of the program.

"The Storytelling Compass is the best tool I've ever used in speech creation/improvement. I've gone through the program twice. The compass helps me tear the speech apart, reconstruct it following your format, and it is a much more powerful and audience-focused speech. The Compass alone is worth at least 50 times what I paid for the program."

MICHAEL R DAVISthe Storytelling MD, SpeakingCPR.com

With this interactive Storytelling Toolkit, you will feel like you were there with us for that special weekend when we led the course.

Difference-Maker #4 –


There Are 2 World Champions This Time

This time I am joined by World Champion Speaker, Darren LaCroix. The insights Darren has in this course are tremendous. However, Darren and I are also not alone. We are joined by speakers who have expertise in many different areas. What you learn from the combination of Darren, the active participants, and me will help you make your next story the best you've ever told.

Difference-Maker #5 –


You get to SEE 18 more bonus stories

That's right. In addition to the 6 stories from the 6 speakers, you also get 18 bonus stories from Darren LaCroix, Ed Tate (2000 World Champion of Public Speaking) and me. Being able to watch these extra stories and identify the tools we used will help you naturally and automatically integrate these winning tools into your stories.