[Full Complete 23 Courses] BKForex by Kathy Lian & Boris Schlossberg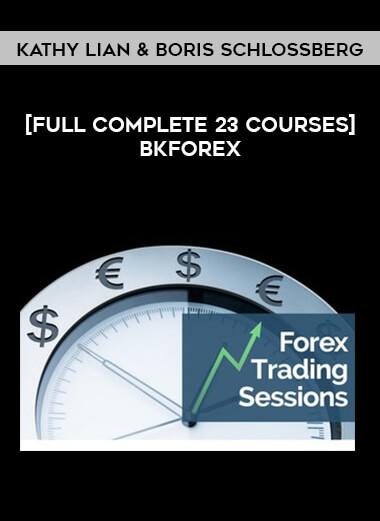 [Full Complete 23 Courses] BKForex by Kathy Lian & Boris Schlossberg
Arichive : [Full Complete 23 Courses] BKForex by Kathy Lian & Boris Schlossberg
KATHY LIEN is Managing Director and Founding Partner of BKForex. Having graduated New York University's Stern School of Business at the age of 18, Ms. Kathy Lien has more than 13 years of experience in the financial markets with a specific focus on currencies.
As an expert on G20 currencies, Kathy is often quoted in the Wall Street Journal, Reuters, Bloomberg, Marketwatch, Associated Press, AAP, UK Telegraph, Sydney Morning Herald and other leading news publications. She also appears regularly on CNBC – US, Asia and Europe and on Sky Business. Kathy is an internationally published author of the best selling book Day Trading and Swing Trading the Currency Market as well as The Little Book of Currency Trading and Millionaire Traders: How Everyday People Beat Wall Street at its Own Game – all published through Wiley. Kathy's extensive experience in developing trading strategies using cross markets analysis and her years of market research in predicting economic data surprises serve as key components of BK's analytical techniques.
BORIS SCHLOSSBERG is Managing Director and Founding Partner of BKForex. Mr. Boris Schlossberg is a leading foreign exchange expert with more than 20 years of financial market experience.
His career on Wall Street began over 2 decades ago with Drexel Burhnam Lambert and during that time he has traded a variety of financial instruments, from equities and options to stock index futures and foreign exchange. In 2004, Boris joined FXCM and helped start the firm's FX Education initiative. In 2005, he joined the research team as Senior Currency Strategist and provided fundamental and technical analysis to the company's global network of individual and institutional customers, as well as financial media outlets. In 2007, while still at FXCM, Boris started BKForex Advisors with Ms. Kathy Lien. A year later, Boris joined Global Futures & Forex Ltd as Director of Currency Research where he provided research and analysis to clients and managed a global foreign exchange analysis team with Kathy Lien.